Since it's first presentation to the general public at Paris Games Week in October 2019, our virtual reality esports arena concept, EVA, will embark on a new journey as we prepare for the opening of its first arena by the end of 2020! Despite the COVID-19 situation, the number of EVA locations scheduled to open has exceeded our expectations and the set milestones. Let's go over what's coming up next !😊


10 EVA LOCATIONS COMING SOON
Despite the unfortunate circumstance created by Covid-19 which has been a devastating blow to the entire leisure sector, our team has remained active and no less than 10 EVA locations will emerge throughout France in the next 12 months. These locations will exclusively offer large free roaming areas of ​​at least 400 sqm to play After-H Battle Arena, an competitive FPS (First person Shooter) game that was developed inhouse, specially designed for a PVP free roam gameplay. After-H Battle Arena has also evolved considerably since PGW 2019 with new guns, maps, game modes, and other updates.
7 dedicated EVA locations will welcome you to a 100% EVA experience with one or more game arenas and either a bar or catering area:
EVA Rouen

EVA Val D'Oise (95)

EVA Toulouse

EVA Poitiers

EVA Lille

EVA Reunion

EVA Reims
3 EVA PLAYGROUND will also be installed in existing VR arcades and Multi-leisure locations in the following areas:
EVA PLAYGROUND Le Havre
EVA PLAYGROUND (Bourgoin Jailleu Multiworld)
EVA PLAYGROUND Nantes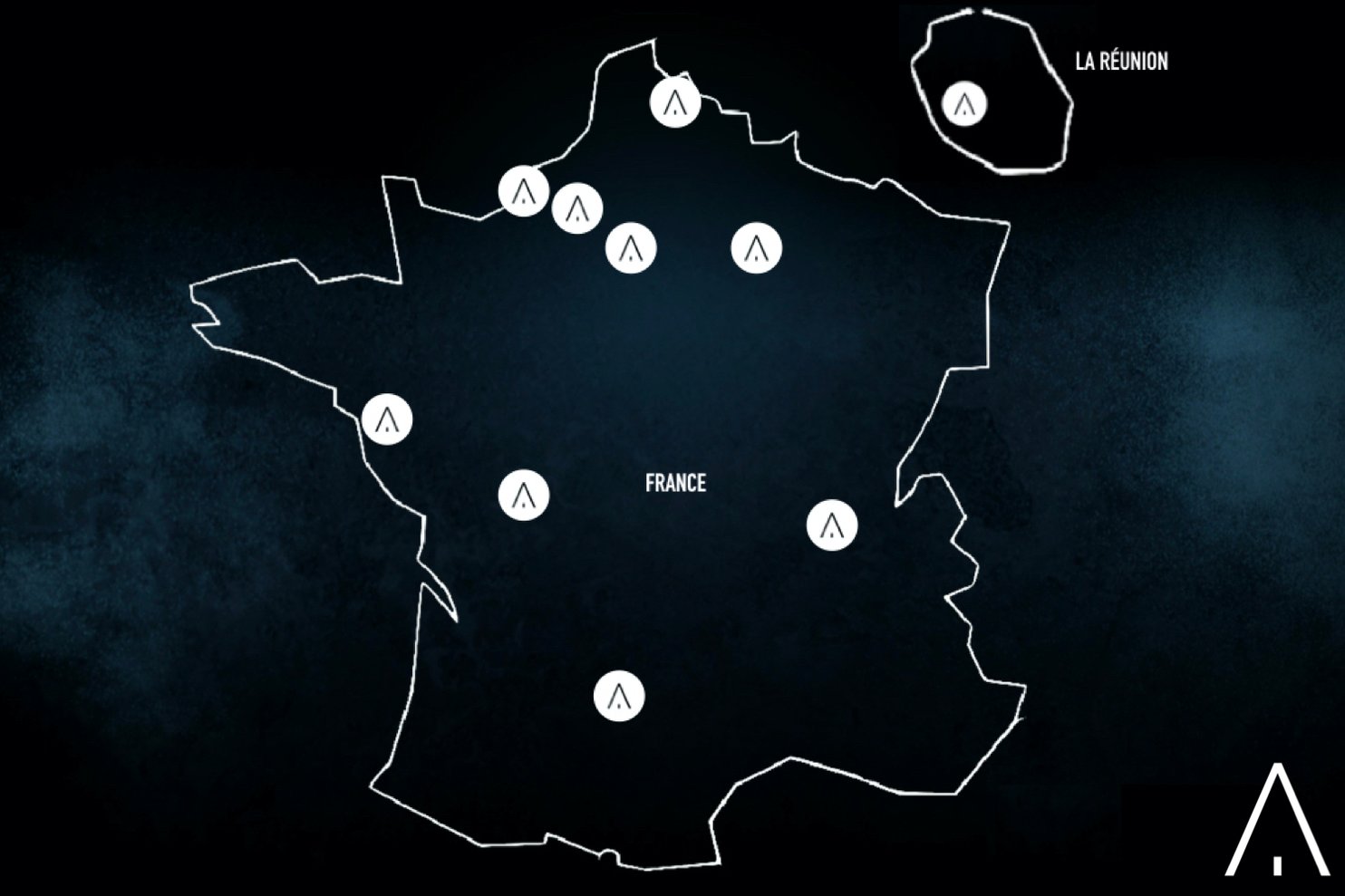 THE BENEFITS THE TURNKEY MODEL
EVA's rapid development in the past few months was possible, not only due to the proven potential during our showcase at Paris Games Week 2019 when we stole the spotlight of the show, but also by our turnkey offer as it supports the project leader at all levels and thus speeds up project development while saving precious time:
Search for suitable premises corresponding to EVA's specifications.
Assist in financial planning (Business plan, product presentation, etc.)
Consult the future manager of the place and execute location layout design with 3D mockups based on the EVA's identity.
Ready to use technology and games delivered with installation.
Staff training and customer support 7/7.
Ready to use website with booking system and online payment.
Opening ceremony and customer acquisition strategy that is esports centric.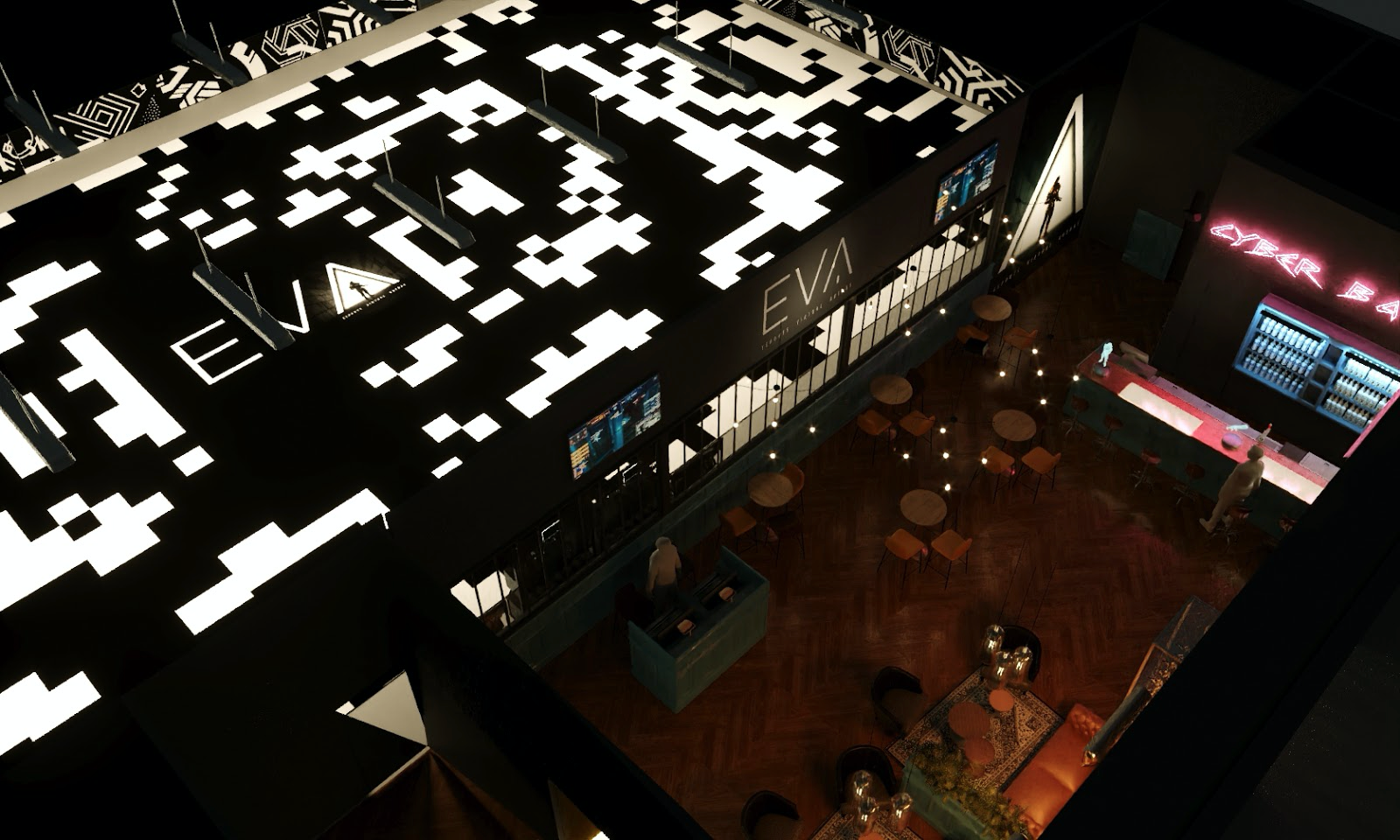 A quick preview of an integrated EVA arena with its bar or lounge area
2021: GOALS
The 2021 objective is to exceed 30 EVA arcades in France and begin to have an international presence. EVA's ambition for VR esports has triumphed over most by developing the maximum number of players and quickly opening a large number of arcades with an intelligent network in France.
In the meantime, we continue to develop our flagship game After-H Battle Arena so that it is constantly evolving with new weapons, new characters, new environments, etc. Furthermore, a new competitive game geared towards younger targets, playable exclusively in EVA, will also take shape by the end of 2020, which will complete the current EVA offer.

If you liked this article, follow us on social media for more EVA updates: