VR esports is setting its foot into the esports world. How will it shape the future of esports? What business opportunitiies await LBVRs (Location Based VR)? In this article, the EVA team shares its vision with you!

Should Esports be considered real sports? This question has long been debated since the emergence of Esports to this day. It is undeniable that there are numerous elements that esports and traditional sports have in common such as competitiveness, dedication, and the amount of training required to excel. In fact, the fundamentals of these two businesses are also quite similar and yet, esports struggles to acquire the recognition it deserves. Some may even say that esports is an imposter in its attempt to bring video games and sports together.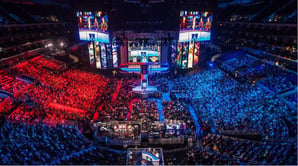 Well this 'imposter' is now one of the hottest topics on the internet. Not only the exponential growth of esports is starting to attract major brands such as Intel, Redbull, ASUS, etc, the market value of esports clubs has skyrocketed over the past few years and are almost as high as top tier traditional sports clubs. The two highest ranking esports clubs in terms of market value are currently Team Solo Mid and Cloud9, at roughly $400M each. Team Liquid is following closely behind at $320M, and Fnatic (ranked first in europe) at $175M.
- Image by BAGOGAMES/CREATIVE COMMONS
Another indisputable way to assess the popularity of any field that relies on media is through the amount of audience watching on television or, nowadays the internet.
For example, the Super Bowl finale of 2019, one of the main sports events in the United States, generated an audience of 98M spectators; the UEFA Champions League (European Cup), one of the most prestigious football tournaments in the world, gathered an audience of 180M spectators. Esports is no exception; take the latest League of Legends World Championship in 2019 as an example, it has gathered an audience no less than 150M spectators. Generating numbers that are competing with many prestigious sports events worldwide.
It is therefore safe to say that esports has become mainstream.
WHAT ABOUT VR ESPORTS?
Virtual reality is set to not only be part of this booming new sporting genre, it is positioning itself to bridge the gap between esports and traditional sports. One of the many advantages virtual reality has over other gaming platforms is to get the player moving. Thanks to it's immersive gameplay, players will have to physically turn to observe their surroundings, crouch, bend over, etc, instead of a couple mouse clicks on a flat screen. The level of precision and tracking technology is growing by leaps and bounds as VR technology matures. However, is getting the players out of their seats enough to change the public perception of esports?
Since the infancy of VR gaming, there have been several VR esports initiatives such as VR Challenger league, Virtuix Omni tournament, etc. These VR esports competitions were pushed on the VR arcade platform which essentially allows the player to move about in a 5 or 6sqm space. Despite the fun gameplay and well organized tournaments, the number of audiences still struggles to push VR esports into the mainstream light.
VR esports should not be an imitation of the existing esports model but an innovation that blazes a trail in esports.
With that in mind, EVA has decided to embrace the innovative VR technology and hone in on creating competitive free-roaming VR content that is esport worthy. Our company was originally founded by 4 partners and currently consists of 22 employees. With the support of the Trust Esports fund who has invested 2M euros into our project in 2019, EVA aims to be the pioneer of VR esports.
As a true believer of free-roaming VR being the key element that will catapult VR esports into the mainstream light, our team has managed to work around the tracking technology limitations and offer an arena space of up to 3000sqm where players can compete in a FPS (First Person Shooter) game, breaking new grounds in esports.
During Paris Game Week 2019, we showcased our brand new concept, a VR esports stadium, to the public for the first time. The entire booth surface was more than 1000sqm with an integrated playground that was a little over 500sqm. The setup included indoor bleachers accommodating up to 500 spectators, as well as a shoutcasting podium and live streaming stations to allow live commentaries and streaming of the matches, creating a real sports stadium atmosphere.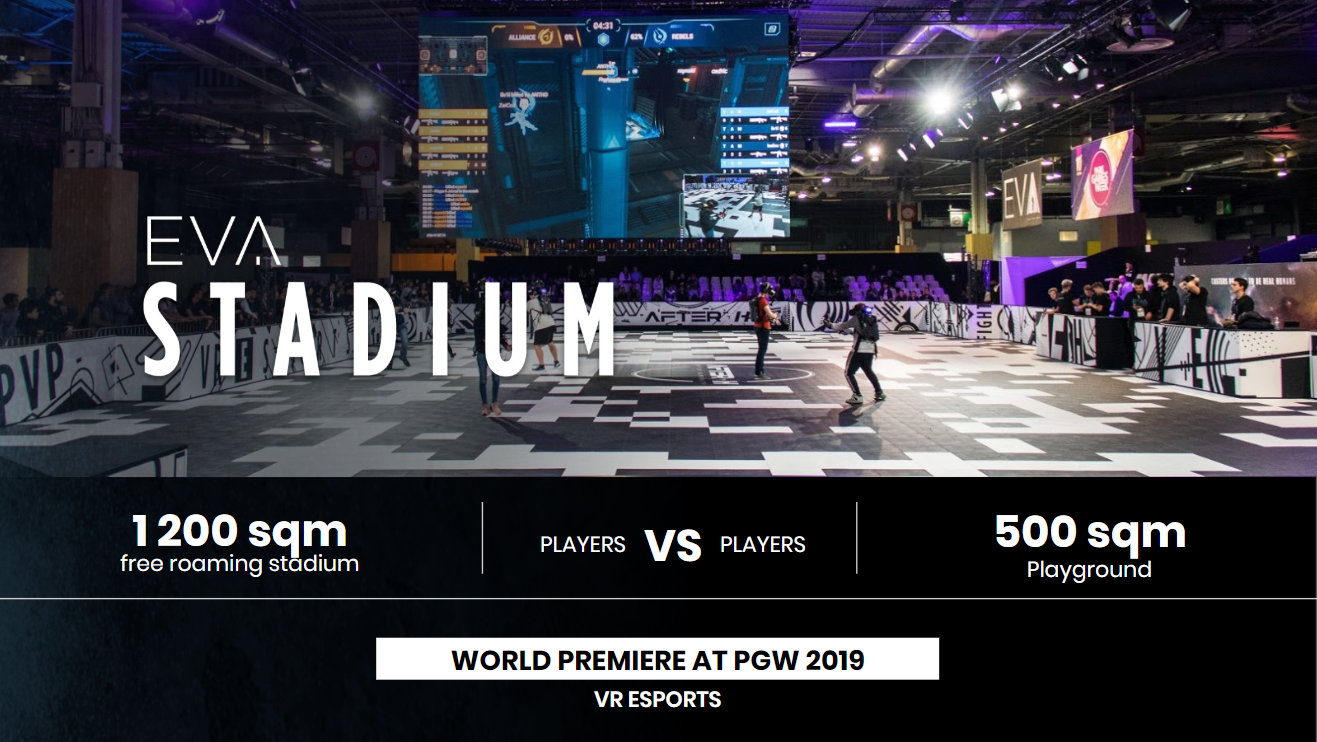 To better understand the outcome of EVAs showcase, you can also check out the making of: EVA World Premiere.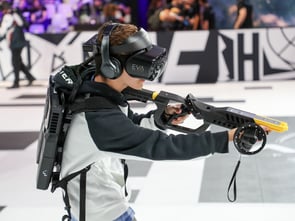 The players competed in 4v4 on After-H, our flagship arcade game that had been adapted to free-roaming; fully equipped with backpack PC, VR headset, 3D printed guns, and connected accessories that were colour coded, allowing the spectators to follow the players movements in real life as well as in game. The success of this showcase was evident as the event gathered an audience of 50M spectators through various online and broadcasting platforms. In the span of 5 days, the EVA stadium attracted 2M visitors and had queues as long as 6 hours for a 5 minute test game. The feedback was not only positive from the general public, but also from infamous esports influencers, pro gamers and journalists who tested the game.
OUR 3 KEY TAKEAWAYS FROM EVA SHOWCASE'S SUCCESS
Free-roaming allows physical movement in large surface areas which brings a breath of fresh air to both immersion and gameplay. It creates a competitive virtual reality experience that demands a certain level of physical fitness to compete, marrying the values of traditional sports and esports; dexterity, stamina, endurance, etc, with an "easy to play, hard to master" gameplay.
We were overwhelmed by the number of spectators who stuck around to watch the regular matches that weren't part of the main event. The audience enjoyed the spectacle thanks to the giant screens and exciting commentaries from the shoutcasters. Seeing the players move physically in person and in game has certainly made for a far more enjoyable spectating experience.
Easy to play, hard to master
As players navigate through the game by actual movements, complicated buttons and controls to move around in a game are no longer necessary. It is therefore very intuitive and easily adaptable to players of all ages, even for non-gamers. This hypothesis was confirmed when we saw a lot of non-gamers being captivated by the game just after a couple minutes of briefing. This is, in our opinion, key to unlocking new audiences for VR.
In 2020, EVA playgrounds will soon be available to the public at Lille, Toulouse, Rouen, Paris and La Réunion.
What form will VR esports take is an interesting future to ponder. Will it take on a more traditional sporting form such as soccer or basketball, rendering future LBVRs (Location Based VR) into esports stadiums where professional esports teams go to train? Or, will VR headsets become more accessible at home, rendering LBVRs obsolete unless they offer a premium VR experience such as free-roaming or various VR simulations? In which case professional esports players will hone their skills at home and compete in free-roaming at LBVRs, as Formula 1 drivers do today.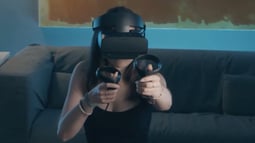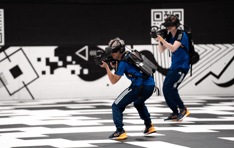 Train at home Compete in LBVRs
Whatever the future holds, a couple things are for certain:
A new hybrid of athletes and gamers will emerge. These pro-gamers will be lean, dexterous, and agile. Their eye and hand coordination will be crucial to success, as well as their reaction time.
Virtual reality will definitely see a strong drive for more competitive experiences as the technology continues to mature.
The exponential growth of esports will continue to accelerate.
Free-roaming will remain unattainable for home users due to the space required and therefore, will always be a premium VR experience to the public.

If you liked this article, follow us on social media for more EVA updates: