EVENT FEEDBACK
EVA surprised Paris Games Week visitors with its incredible virtual reality esports arena.
The EVA concept was strategically presented publically for the first time during this highly anticipated video game exhibition, on Tuesday, 29th of October, at Hall 3. With a total surface area of 1,200sqm (500sqm of which was dedicated to the EVA playground), 500 seats in tiered bleachers, a caster space and three huge LED screens, the lucky attendees had an experience like no other.
Building a stadium capable of hosting VR sport free-roaming competitions and developing a reliable tracking technology in such a vast space took months of hard work. But it certainly paid off!
We could barely hide our excitement when we opened the doors of the EVA stadium to the public.
Hundreds of visitors queued up excitedly to wait for their turn even before the opening time. For many, this could have been their first VR experience ever.
The EVA stadium homed a number of activities. Including interesting demo sessions and the exhilarating free-roaming VR sport competition: The PGW CUP.
The event was even attended by some big names in the video gaming scene; for instance, DominGo, a popular video game streamer in France, and Skyyart, a professional League of Legends e-sports player. Fans were even able to challenge them in matches.
VISITORS AND THE PRESS WERE CAPTIVATED
During the six-day event, more than 3,000 visitors and 20,000 spectators enjoyed the entertainment EVA provided. Even though the wait was long for people to be able to test our After-H FPS in its free-roaming version, they all left the playground with smiles on their faces.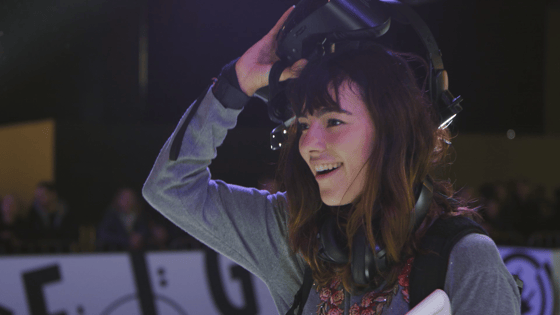 Being an exciting newcomer to Paris Games Week, EVA attracted plenty of media attention. Journalists from M6, Bein Sports, Game One, The Huffington Post, Gameblog, TF1, France 2, Gamer Gen, CNEWS, and more were able to learn about the brand and the unique EVA stadium.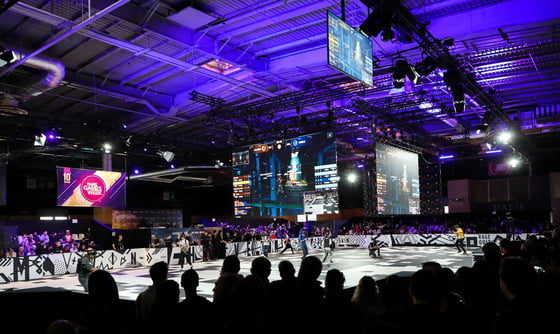 Many of them were eager and had the opportunity to enter the playground, experiencing the entertainment for themselves. We were delighted to hear that their opinions have been more than positive!
"I really enjoyed myself, I think it's a very good experience and moreover it's a space dedicated to esports"

Alix Dulac, Gameblog
"An impressive setup, as the authors of the film Tron (1982) could have imagined"

CNEWS
The turnout of the launch has exceeded our expectations; if the idea was to raise curiosity during the show, we are definitely thrilled by how enthusiastic the visitors and press were about the experience. Since the audience has only given us positive feedback and are asking for more, we can't wait to kickstart the next chapter!
FOCUS IN 2020
Instead of just limiting the EVA stadium to big events like the Paris Games Week, the brand is eager to open permanent rooms in France and across Europe. With ambitious goals, EVA has set its sights on opening 10 locations by the end of this year, a place where esports fans can gather to follow and take part in the competitions of their favorite games or just to experience the intensity of a free-roaming VR game.
The first EVA location is already set in motion: It will be launched at Pierrelaye, France in April 2020. The playground will have a surface area of 450m2, which can easily accommodate up to 16 players simultaneously, as well as 8 EVA arcade pods.
Discussions are currently being finalized for other EVA locations in France and in Europe, so get ready for more exciting updates in the coming weeks ...
---
Do not miss any EVA news, follow us on social media!