After 3 years of supplying white label products to more than 200 VR arcades, we finally decided to build our very own brand named EVA - Esports Virtual Arena. Besides being a true believer in and advocator for VR esports, EVA strongly believes that a successful VR arcade relies on the global experience of a player. This starts from the moment a player goes onto the website and book a session, untill they walk out of the arcade.
HOW TO HAVE RETURNING PLAYERS TO AN ARCADE?
If you have been reading our blogs, it would come as no surprise that EVA, a.k.a, Esports Virtual Arenas is all about creating esports worthy VR content with high replayability. However today, I'd like to talk about a more basic yet important aspect that promotes returning customers to a location. - Customer experience.
As a supplier of more than 200 VR arcades for 3 years, we have been taking notes and gathering information on various types of VR arcades. One thing we find most VR arcades tend to neglect is the global customer experience of the players. We're not just talking about the games and teh technical aspect of the experience, we're talking about from the moment the player goes on to the website to book a game session, when the player steps into the location, during game and breaks in between games.
EVA'S IDENTITY
Since the beginning of November 2019, EVA has been building its identity surrounding the play area to create an out of this world gaming space that not only accommodates large numbers of spectators but also one that provides comfort for gamers to hang out with friends when they are not playing.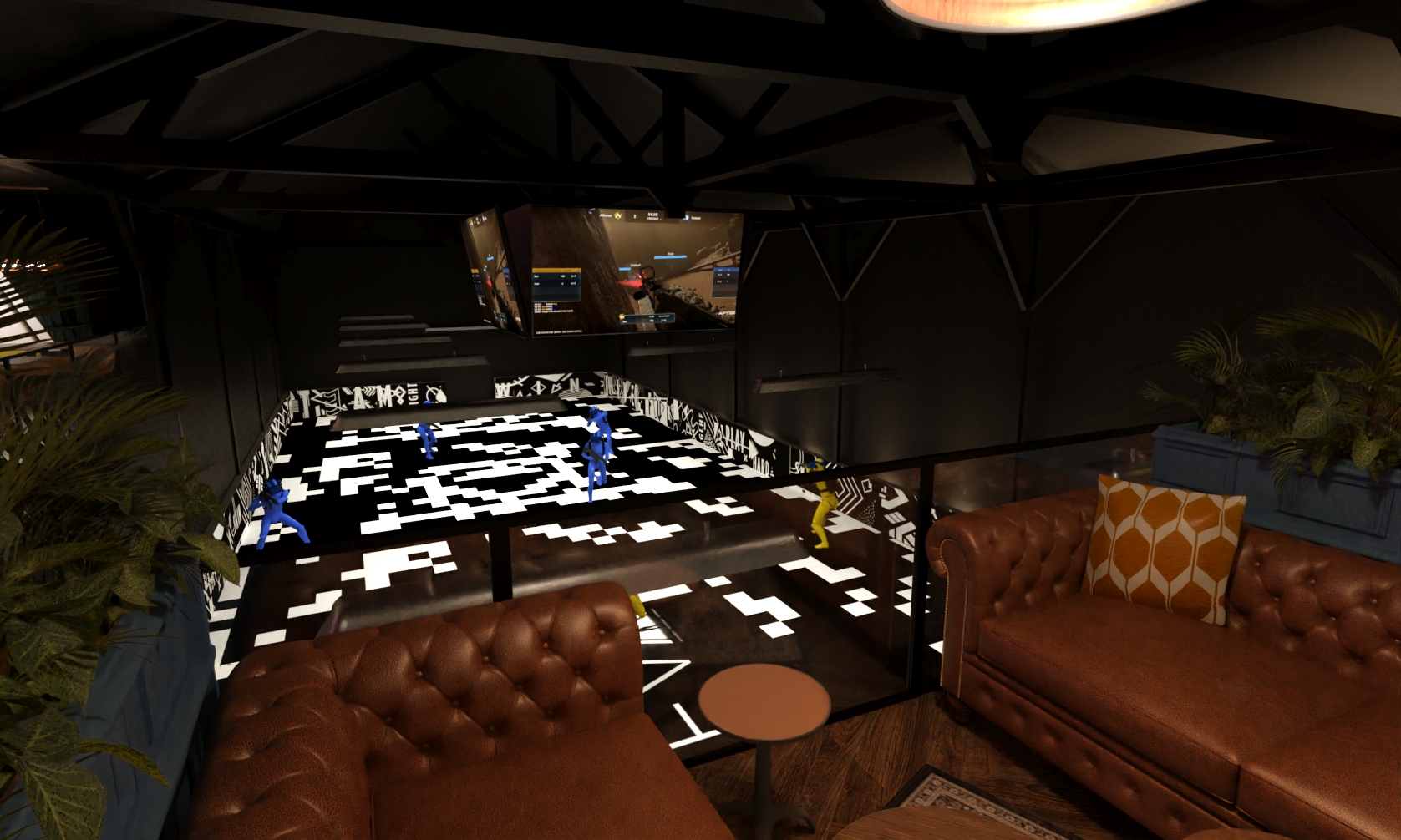 The concept design of EVA locations are inspired by one of the most anticipated game Cyberpunk 2077. We decided to combine sci-fi with an english vintage vibe, keeping the environment classy and edgy, yet cozy.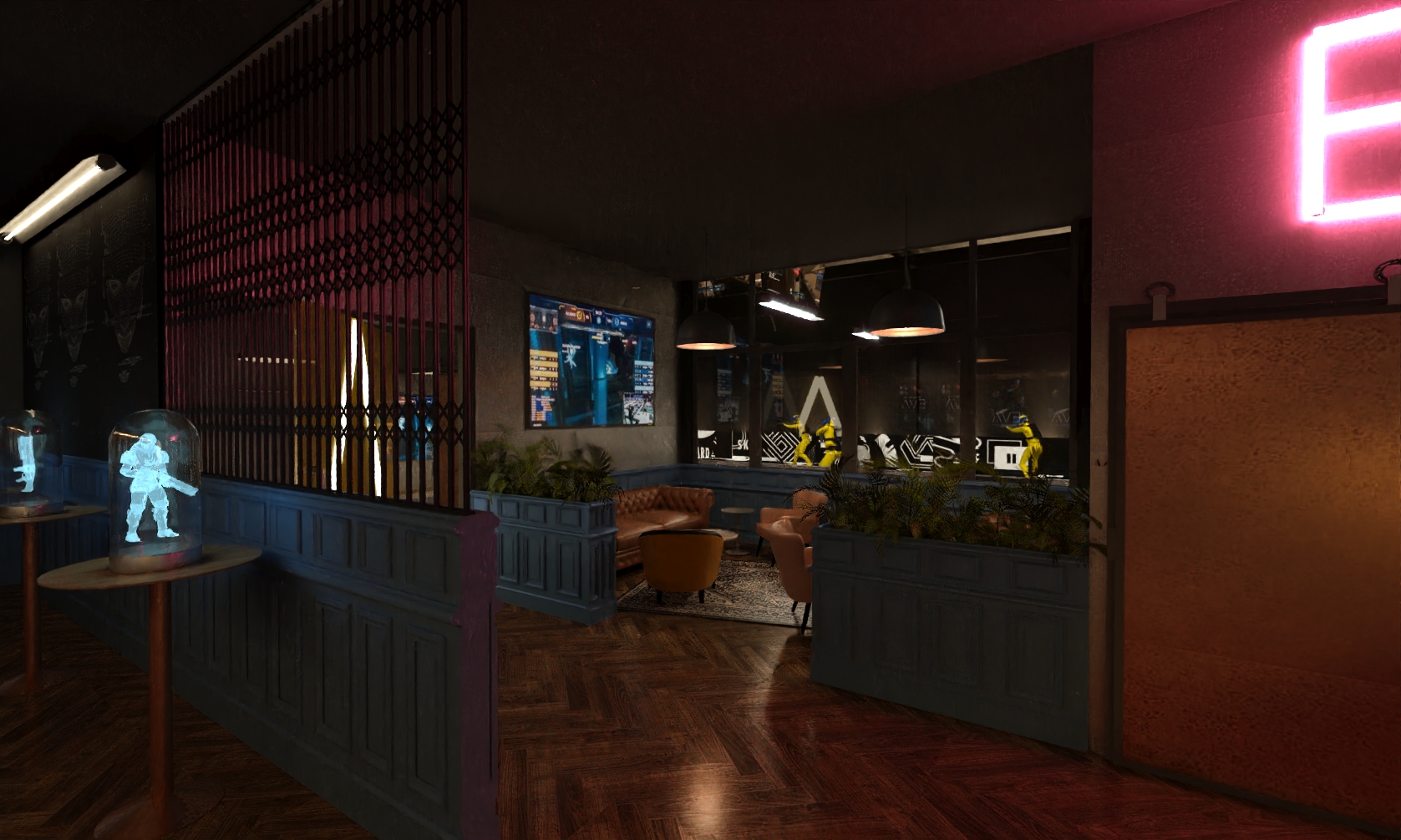 For the lounge area, we'll have neon signs at the bar, holograms of characters from EVA's games and comfortable seating area with some indoor plants. This lounge area is specially designed to retain spectators and provide spectators an immersive experience the moment they step into an EVA location, even when they aren't playing.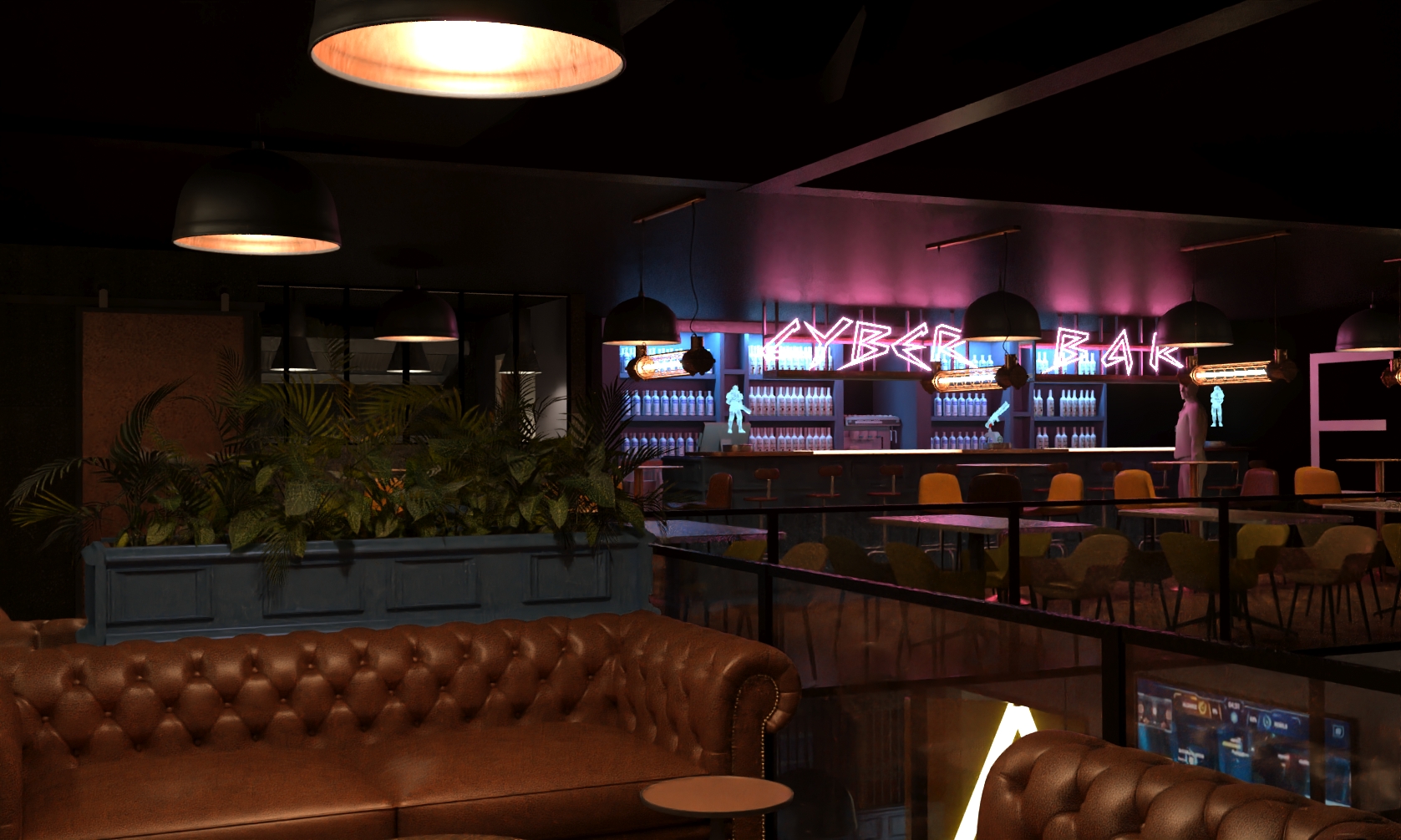 There will be spectator screens in the lounge area so that the spectators can follow the free-roaming VR game easily with comfort while having drinks with friends. Besides being a sci-fi cyberpunk universe for the children to get lost in, the vintage english vibe of the EVA lounges will also be a suitable place for the parents to chat, drink and keep an eye on their children.
EVA'S TURNKEY SOLUTION
To make sure the EVA brand is on point, EVA offers an A to Z turnkey offer where they help new partners throughout the entire set up process. Providing guidance at every step of the way, from choosing a suitable location, layout planning, 3D mockup of the interior design, to creating a profitable business plan, website, marketing services, etc. The goal is to help the owners realise their vision while staying on brand with EVA's new found identity.
Here are some 3D layout examples of what we have done for one of our upcoming locations: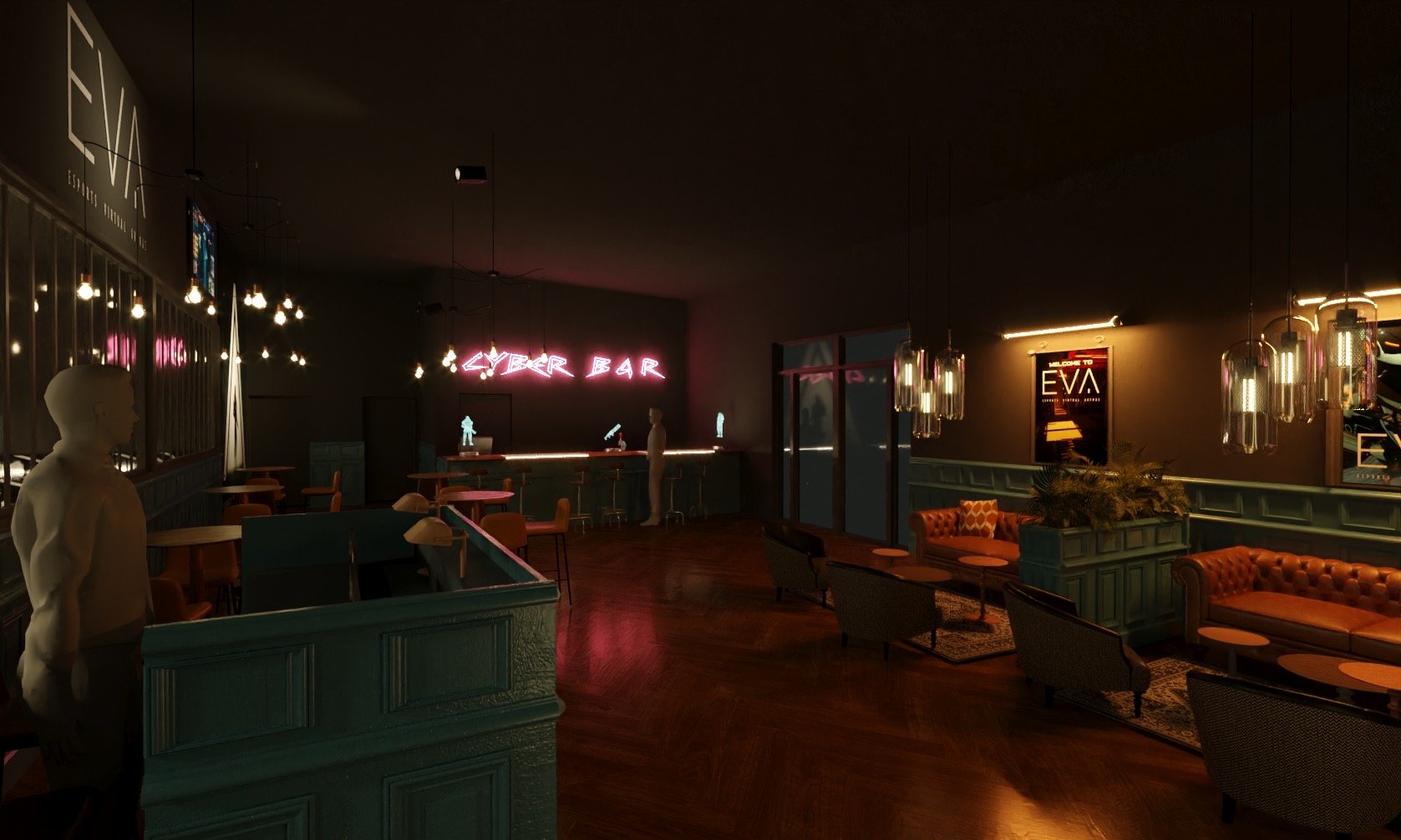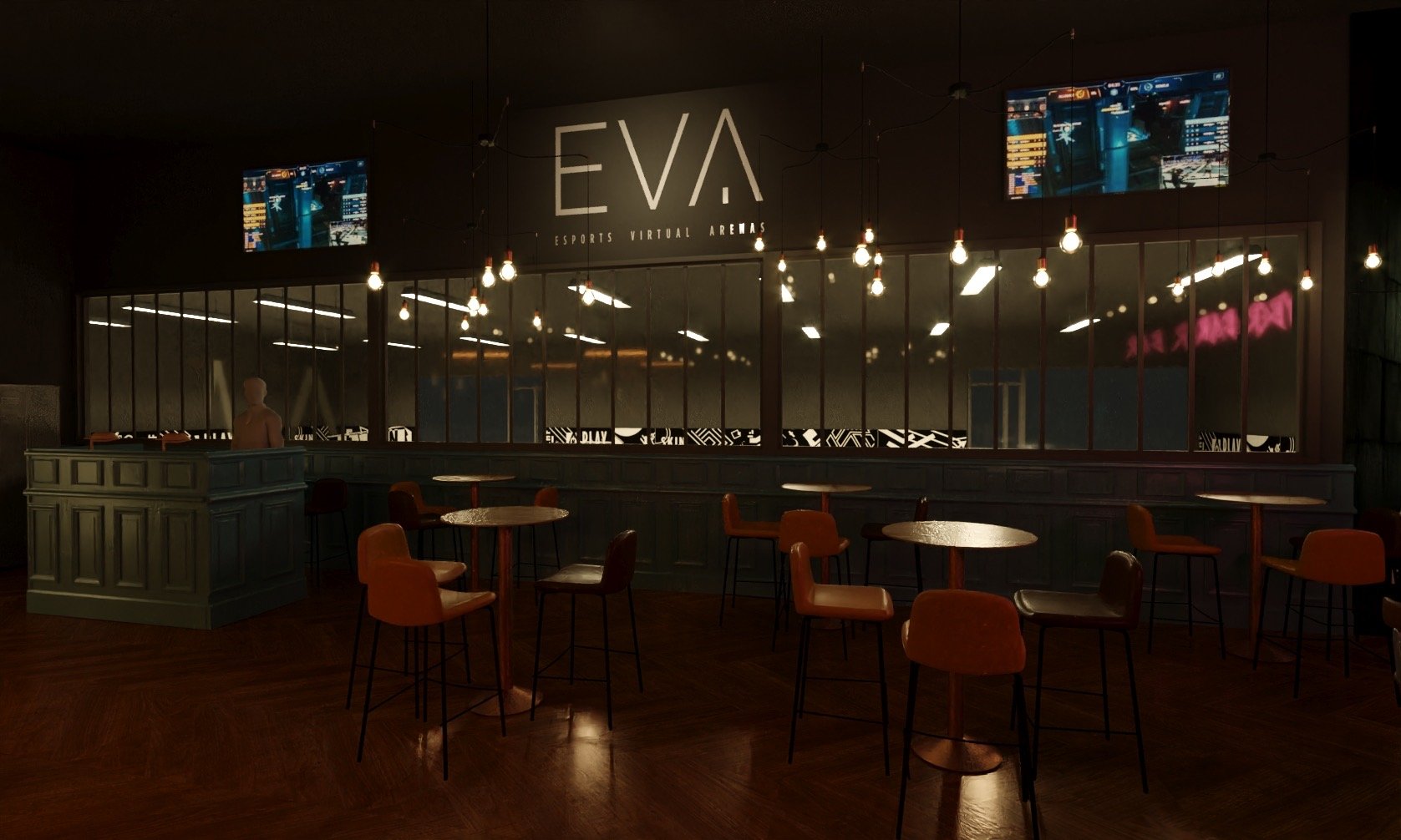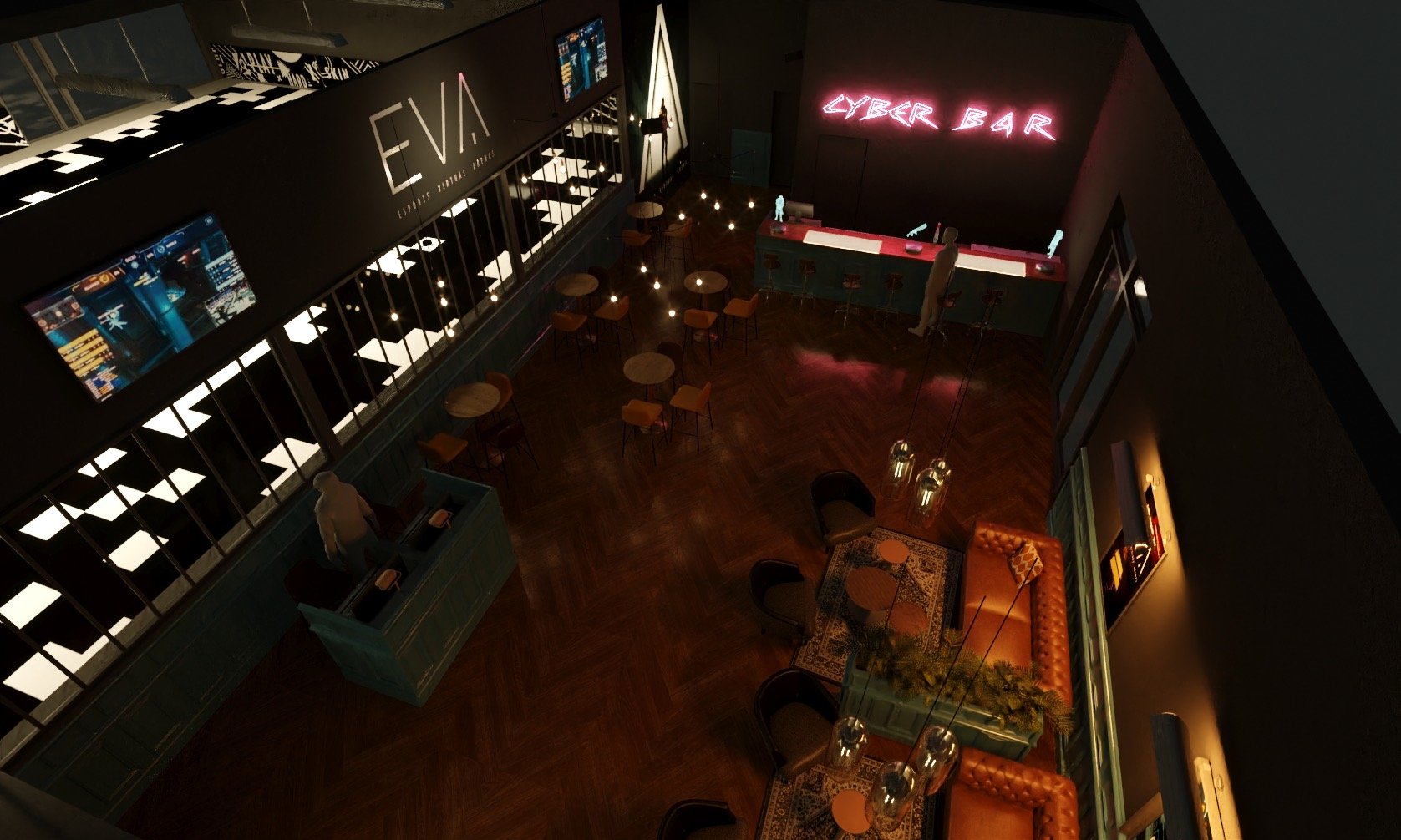 After an EVA location is properly set up, the EVA turnkey solution also includes the organization of the opening ceremony of the location and customer support for any hardware or software issues.
With our first EVA location coming out soon and we are incredibly excited for everyone to go through the full EVA experience!
If you like to keep updated wth our first opening date, follow EVA updates closely on our social media here: