UPDATE : The Battle Pass is coming to all our US-based players tomorrow on February 15!
We've been working on a global effort to bring our subscription model to our current and future US locations to provide players with flexible options and an exclusive membership to train and play VR esports like never before.
Since 2019, the genesis of the EVA project has always been linked to esport. It all started as a gamer and esports fan's dream: "What if we could play Call of Duty on a basketball court in VR?"
Our ambition at EVA has since been to create a new discipline merging video games, esport, and sports, with a real physical effort, all thanks to immersive technologies like VR.

In order to create a new sport, you need to be able to practice it regularly. That's why we have, from the beginning of the project, pushed for the possibility to subscribe to EVA in order to play regularly and improve on the game. We wanted to give the freedom to players to schedule in advance, form teams, and go to their favorite EVA location to practice. We will also be sharing more details in the coming weeks about future esports tournaments, as we ramp up our US expansion.
Today, we are thrilled to share official news about the Battle Pass. The Battle Pass is a national subscription that allows you to play several sessions at a discounted rate, access exclusive content and discounts, and train regularly to participate to EVA's esports tournaments. There are 3 different offers, tailored to different type of players, from casual VR enthusiasts to competitive players: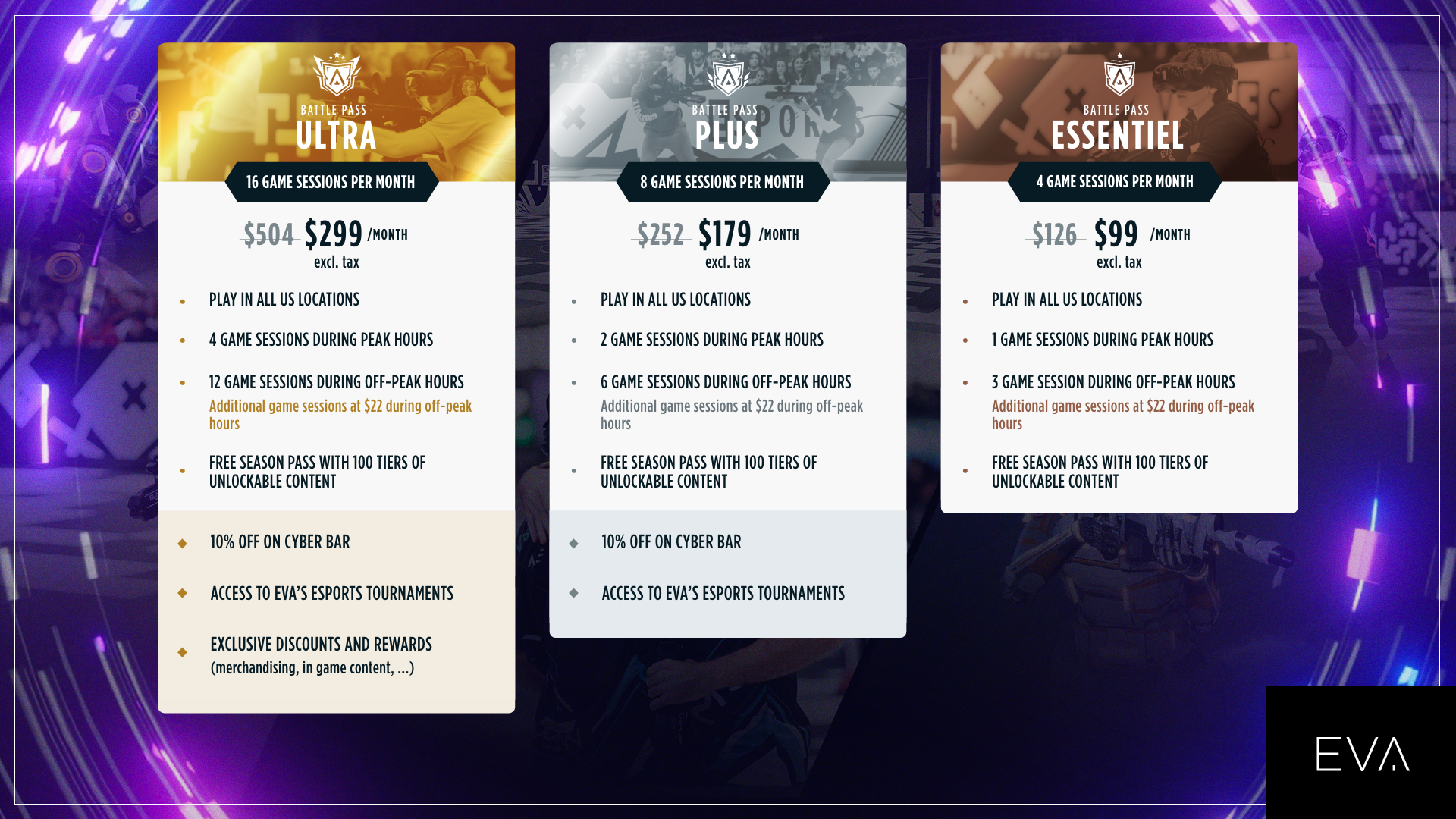 Since opening our first American location in Texas, we've been very happy to see the excitement around our games and arenas! Our goal is to open more locations across Texas in 2023 and in the long term have EVA locations all around the United States. We believe that location-based VR esports is the future of gaming and sports and will be pushing hard to bring our arenas to players across the country!
Stay tuned and follow us on social media to stay updated!
Twitter : evagg_us
Instagram : evagg_us
Linkedin : evagg