Paris Games Week event is the third biggest game convention in the world and was a great opportunity for us to get some honest opinions from esports influencers about what they thought right after an EVA original game, After-H: Battle Arena.
DOMINGO FEEDBACK
First, we've got one of our guest commentators, Domingo, talking right after a heated game.Domingo is a renowned esports influencer, streamer and youtuber to the french speaking community. We spoke briefly to get his feedback on the game for our development team.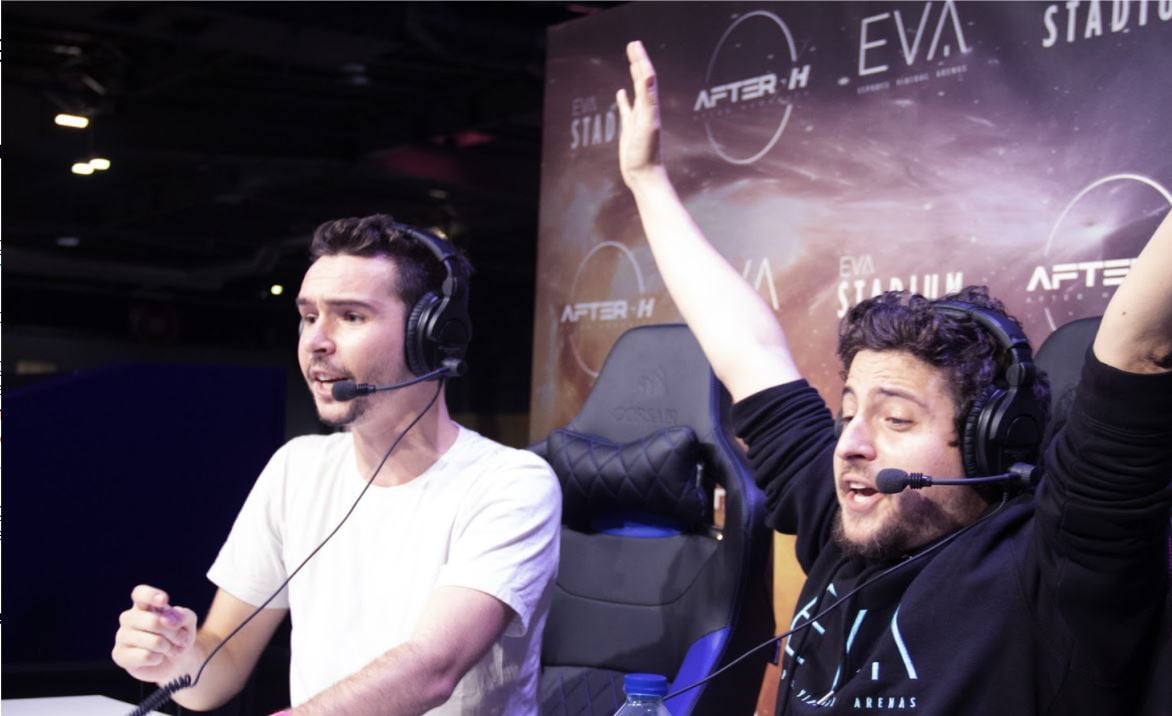 HAVE YOU PLAYED VR IN THE PAST ?
I have never played, or maybe just a very little bit of VR back in the day.
HOW WOULD YOU DESCRIBE THE EXPERIENCE?
It's satisfying when you get a couple kills, little double kills and all. For me, it's like a laser-tag game but 100 times better!
WHAT DID YOU THINK OF THE EVA's ORIGINAL GAME, AFTER H: BATTLE ARENA WHEN YOU CASTED IT?
Yeah, I casted the game afterwards, we saw pro players that were at an insane level. They were able to hold their lanes, there were strategies and everything.. I'm impressed to be honest, it is nice to see a french studio succeed to enter a new domain and take a stand that looks great!

Congratulations and all the best to you guys!
DominGo's Interview Video Montage
INOXTAG FEEDBACK
Next, we have our surprise guest, Inoxtag. An uprising french youtuber who currently has 2.71 M subscribers and growing. Inoxtag's visit was one of those happy coincidences where he came across our booth and instantly fell in love with EVA.
WHAT DID YOU THINK OF EVA?
Incredible, just INCREDIBLLE! I loved it to death! I'm in love, I want it to be right next to my house.
HOW WAS YOUR FIRST EVA EXPERIENCE ?
Too easy! You just come, see the weapon.. You really feel like you have it in your hands, it's unbelievable ! As well as the walls, the teammates… Easy to use, good job, seriously. The most unique experience of Paris Games Week!
DID YOU HAVE ANY ISSUES ADAPTING TO THE GAME?
It's super easy to get started. A briefing and it's all good, just a little briefing and then well, it's a gun. It's unbelievable! Everything works, it shoots when you want to and everything, it's perfect ! Those of you who have played paintball or airsoft before will love it ! Seriously, it's incredible. Hats off to you! Thanks guys!
ANY OTHER THOUGHTS YOU'D LIKE TO SHARE?
In fact, I was actually sweating. Seriously! You have to be physical, I told you just now. Yeah, this is the future, the future of esports.
InoxTag's Interview Video Montage
We hope you've enjoyed this little piece of article.
If you like to keep updated with our first opening date, follow us on our social media here for new updates: