PRESENTING THE NEW AFTER - H: ZOMBIES
After-H : Zombies teaser in English
After our arcade PVP (player versus player) game mode with 3 maps and 3 different game modes, our free-roaming PVP version that is supports up to 3000m2, and our free-roaming PVE version (player versus environment), we have recently added a brand new PVE game mode..., After-H: Zombies!

Similar to the zombie gameplay in Call of Duty, survive hordes of zombies for as long as possible, but do it in VR free-roaming! If you have what it takes, you can also try to beat the worldwide record on the After-H worldwide leaderboard.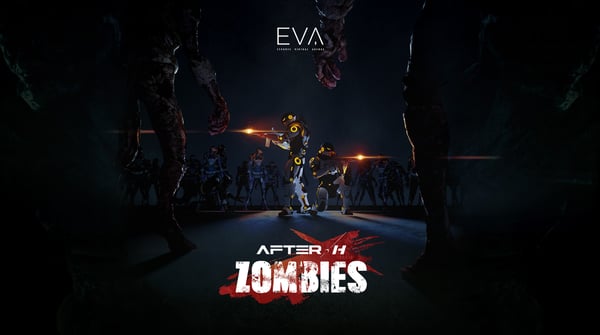 WHAT IS IT ABOUT?
Things doesn't always go according to plan, therefore sometimes even the perfectly planned out mission could go wrong. For example when your transporter's calibaration has been altered by a magnetism change in of the planet destination, and you find yourself trapped in an abandoned spaceship. Just when things coudn't get any worse, hordes of zombies rise from the dead to attack you. Wave after wave, survive for as long as possible. Whether zombies are slow, fast, crawling or gigantic in size, don't let these zombies fulfill their objective: to devour you.

Equipped with a backpack PC and VR headset, choose your duo set of weapons between sniper, assault rifle and shotgun to defend yourself in a 100m2 space, with total immersion. Walk, crouch, dodge and cooperate with your teammates to reach the highest wave!
WHERE CAN YOU PLAY IT?
After-H: Zombie is now available in all partnering arcades offering free roaming After-H experience in Besançon, Moucron, Haumont, Mougins, Bourgoin, Bordeaux (The full list of arcades will soon be listed on play.after-h.com).
Don't miss out on new EVA updates, follow us on social media: